You know the moment by now.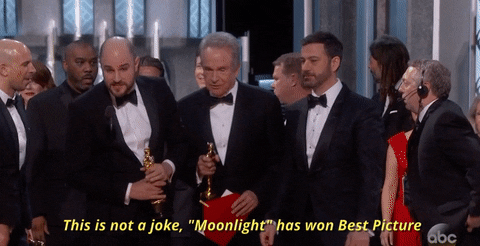 However, the gaffe by actress Faye Dunaway and actor Warren Beatty (and whoever gave them the envelope in the first place) wasn't the first time that something went horribly awry at an awards show. So, while the folks at the Oscars take a deep breath, let's look at other moments that caused at least one person to blush in embarrassment.
1. Steve Harvey at Miss Universe, December 2015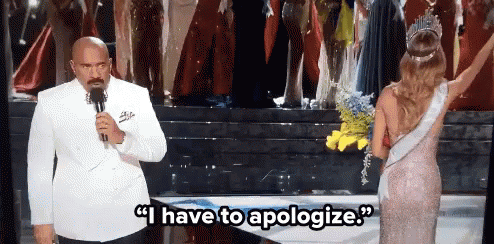 Come on, did you really think we'd lead off with any other? It was the mistake heard 'round the world as hapless host Steve Harvey announced that Miss Columbia Ariadna Gutiérrez, and not the rightful winner Miss Philippines Pia Wurtzbach, was the winner. It was a mistake that made his life "hell," earned him death threats from angry Columbians, and made him the subject of every…one…of…these…memes.
2. John Travolta at the Oscars, 2014
Watch the above video and try to figure out exactly what he was trying to say. It certainly wasn't "Idina Menzel." Then watch the below video and tell me you're not a little creeped out by Mr. Travolta himself.
3. Jack Palance at the Oscars (not really, but everyone thought he did), 1993
If Snopes has to address a rumor, you know it was a big one. A lot of people thought presenter Jack Palance said the wrong name when actress Marisa Tomei was awarded an Oscar for her supporting role in "My Cousin Vinny." Those people included the Hollywood Reporter and film critic Rex Reed. They were wrong. Tomei's award was legit, whether you want to think she deserved it or not (Editor's note: she deserved it).
4. Whoever put up Jan Chapman's picture up at the Oscars, 2017
Oh boy. If it weren't for EnvelopeGate later that night, this might be the gaffe that people were talking about today. An Australian movie producer named Jan Chapman was remembered in an "In Memorium" segment at the Oscars Sunday night.
Except she's not dead.
She's alive and well, but is reportedly "devastated" over the gaffe. Can you really blame her?
5. A streaker at the Oscars, 1974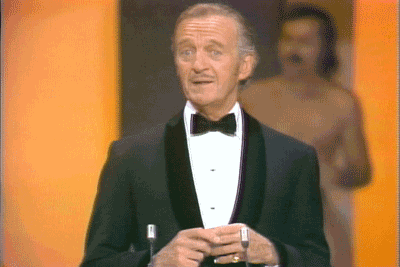 Ah, the 70s. A time when people danced in discos, "experimented" with drugs, and expressed themselves in new ways like Robert Opel did. Opel was a photographer who had the wild idea to run naked on the stage while host David Niven was presenting an award to legendary actress Elizabeth Taylor. As you can see above, Niven kept his composure and laughed it off with aplomb: "Well ladies and gentlemen, that was almost bound to happen. Isn't it fascinating to think that probably the only laugh that man will ever get in his life is by stripping off and showing his shortcomings?"
6. Kanye West at the MTV Movie Awards, 2009
Of course, we saved the worst for last. It's one thing to read the wrong envelope, mispronounce a name, or declare someone dead when they're actually alive. Somehow, though, the one and only Kanye West topped all that by completely stealing singer Taylor Swift's moment. In typical Kanye fashion, it started a feud that hasn't really ended yet.
There's your daily reminder that it's Kanye West's world, we just happen to live in it. And while you roll your eyes, just remember that Kanye himself would probably tell you the same thing.