After five rounds of voting, a Kosciusko County Republican caucus selects William "Rocky" Goshert as sheriff.
Goshert will be filling the role vacated by Aaron Rovenstine when he was convicted on a felony count of intimidation. Goshert had been serving as the interim sheriff since Rovenstine was sentenced in May. He is also a former two-term Kosciusko County Sheriff.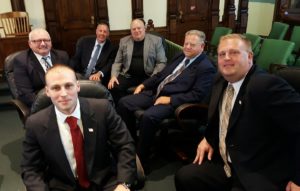 65 precinct committeemen showed up to Wednesday night's caucus, out of the 69 eligible to participate in voting. Goshert beat out five other candidates: Kyle Dukes, Joshua Spangle, Jordan Foreman, Kelly Prater, and Louis "Bill" Brown.
Goshert didn't take pleasure in the win, though.
"I don't take great joy in this because this came at a heavy price for a lot of people, and its done a lot of damage to several families in this community," he explains. "I won, but it was at a heavy cost that hurts."
All of the candidates were given an opportunity to speak to the precinct committeemen prior to the vote. Goshert told them he had learned a lot from former sheriffs Al and Aaron Rovenstine.
After he was selected by the caucus, Goshert reflected further on his connection to the Rovenstines.
"Aaron was a very good friend of mine and I have a lot of respect for the Rovenstine family, so it is with a heavy heart that I take this over."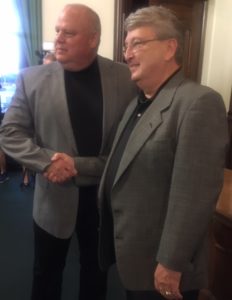 Goshert tells News Now Warsaw he wasn't sure if he was going to seek the position at all because of how it was vacated, but his co-workers at the Kosciusko County Sheriff's Department urged him to run.
"The guys came in when I came in that next day after Aaron had everything happen, they shut the door and I said to them, 'well this is one of two things– either you're going to lynch me or you have something to say to me,'" says Goshert. "They said 'we really want you to run, we trust you, we respect you, and we know we can get on down the road with you.'"
When addressing the caucus, Goshert indicated little interest in running for sheriff in the next election.
"I'm probably not going to run for sheriff again, this will probably never happen again," he stated.
Still, Goshert believes the caucus process fairly represents what the citizens of Kosciusko County want.
"I think the people of this county want to have a united Sheriff's Department, and I think that showed that the majority of the people believed in me and wanted me to continue," he explains.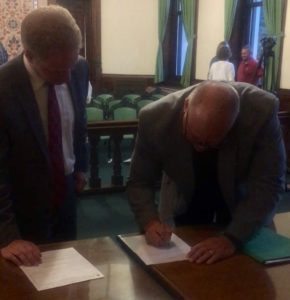 As far as the future is concerned, Goshert wants to not only smooth over the rift between the Kosciusko County Sheriff's Department and the Warsaw Police Department, but he also wants to make sure the sheriff's deputies are being taken care of.
"They really work hard, its just that they've taken a beating for two years, so we're going to take care of that and we're going to push on down the road," Goshert says. "We want to just work and concentrate on getting our department back to where it should be."
Goshert signed his oath of office Wednesday night to begin his role as the Kosciusko County Sheriff.